Ariane Middel
Oahu, Hawaii
The guide was updated:
Surrounded by the green verdant mountains of dormant volcanoes and the roar of the Pacific beating down upon palm-fringed white beaches, Oahu is an incredibly idyllic holiday destination. With such an abundance of natural beauty and the attractions of a vibrant and buzzing metropolis, Oahu is sure to please all those who visit, from the beach bum to the culture vulture.
Facts
Population:
953,207
Currency:
US Dollar, $1 = 100 cents
Emergency numbers:
911
Newspapers:
Honolulu Star Advertiser
Waikiki News
East Oahu Sun
Website:
www.gohawaii.com/oahu
Opening hours:
Most stores are open daily 10am to 6pm or later. Most bars and clubs close around 2am.
Tourist information:
Hawaii Visitors & Convention Bureau
2270 Kalakaua Avenue, Suite 801
Honolulu, HI 96815
+1 808 923 1811
www.hvcb.com
Read more
Sezione In Oahu, Hawaii
Do & See
The breath-takingly beautiful island of Oahu offers an endless array of activities and sights. There are countless ways to relax and savor the unique and peaceful atmosphere. And there are just as many ways to give in to your inner dare devil.
'Iolani Palace
'Iolani Palace is the only official royal residence in the United States! The last king of Hawaii was David Kalakaua, who ruled the kingdom in the late 1800s. Hawaii became an American territory in 1900 and, almost 60 years later, was pronounced the 50th American state.
Do & See
Bishop Museum
Bishop Museum provides excellent exhibits of Hawaiian and Polynesian culture, including Hawaiian artifacts and royal family heirlooms. The museum was founded in 1889 in honor of the royal Kamehameha family.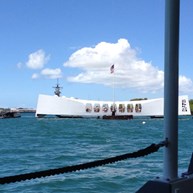 Pearl Harbor Memorials
The United States naval base at Pearl Harbor was surprised by a Japanese military strike on the morning of December 7, 1941. All eight U.S. Navy battleships were damaged and more than 2,000 Americans were killed. This attack led to American involvement in World War II. Now a memorial stands erect for those who died in the assault. It includes exhibits and interpretive programs for other Pacific National Parks: World War II Valor at Pearl Harbor, Kalaupapa National Historical Park on the island of Molokai, American Memorial Park in Saipan, and War in the Pacific National Historical Park in Guam.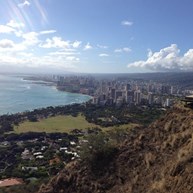 Diamond Head State Monument
Hawaii's most famous landmark, Diamond Head is a volcanic mountain with 360-degree views of the island. The name comes from English sailors who thought the calcite crystals were diamonds. The scenic hike up to the summit is an experience you won't forget.
Hanauma Bay Nature Reserve
Hanauma Bay is a marine nature reserve set in a stunning bay. It's consequently one of the best snorkeling sites in Oahu. Hanauma is dedicated to protecting the marine life in the bay, and visitors are encouraged to promote this endeavor.
Do & See
Polynesian Cultural Center
Sample a traditional Hawaiian luau feast and learn about Polynesian island culture. The luau has been an opportunity for Hawaiians to celebrate the good things in life with friends and family for generations. The bright and festive luau clothes turn any frown upside down.
Do & See
Surfing
People from all over the world dream of catching waves on the shores of Hawaii, and a trip to the islands would not be complete without it. Once upon a time, surfing was a sport reserved for royalty, but, thankfully, today just about anybody can take lessons and experience the thrill of the ocean up close. Waikiki beach is one of the best places to try your luck.