Ölands Turistbyrå och Limited Photo
Öland
The guide was updated:
Sweden's smallest province welcomes everyone who is in search of the greatest adventures. Moreover, the best that life has to offer is free here – the singularly beautiful countryside. Some 300 kilometres of coastline, with an abundance of beaches, more than 75 nature reserves, Stora Alvaret and South Öland's world heritage cultural landscape. There are 28 different orchids growing throughout the island. There are also numerous destinations for excursions. Whatever you want to do, you are welcome to Öland!
Facts
Population:
approx. 25,000
Currency:
Swedish kronor SEK. 1 SEK = 100 öre
Emergency numbers:
112
Newspapers:
Ölandsbladet,
Barometern,
Östra Småland
Website:
www.oland.se
Opening hours:
Shops open Monday-Friday 10-18, department stores and food shops have generous opening hours, also open on Sundays.
Tourist information:
Ölands Turistbyrå Borgholm
Address: Storgatan 1

Ölands Turistbyrå Färjestaden
Address:Träffpunkt Öland 102

Tel. +46 485 89000
www.olandsturist.se
Read more
Section in Öland
Do & See
Beaches where children can play, and where you can take a refreshing dip. Art and handicraft for all tastes. Swedish and Scandinavian history. Entertainment ranging from zoo to night clubs.
Do & See
Biking on Öland
It's good to have plenty of time when cycling on Öland, but not because it's strenuous – quite the reverse – the byroads almost whisk you through the landscape, and you can put your energy into really enjoying the impressions you get. You will probably want to stop and take a closer look at many of the places you pass by, so take your time.
Do & See
Biking Trails
The cycle paths are clearly marked along Öland's byways. The Ölandsleden cycle path's 45 kilometres take you over the whole island, or you can choose a shorter section. The Sverigeleden path runs from the Öland Bridge to Grankullavik. The Ecopark cycle path runs for forty kilmotres in Böda Forest. Böda Forest is one of Sveaskog's Ecoparks.
Do & See
Vandringsleder
There are plenty of long-distance footpaths and marked trails on Öland. Böda long-distance footpath, a 50 km long trail that runs from Byerum Sandvik to Nabbelund on north Öland, is part of Sveaskog's Ecopark. Hälsans Stig, or the "Path to Health," is a wonderful trail in Borgholm on central Öland in a varied environment. It runs through a nature reserve at Borgholm Castle. The trail is 4 km long. "Borg till borg" ("Castle to Castle") is an approximately 16 km long footpath that runs between two ancient forts, Gråborg and Ismantorp, that are located in the middle of the island. Mörbylånga path is about 77 km long and runs through unique natural and cultural environments from Träffpunkt Öland tourist office at the bridge abutment to Ottenby Youth Hostel at the southern cape.
Do & See
Böda Ecopark
Böda ecopark is a singularly inviting landscape on Öland's most northerly point. It offers everything from barren sand-dunes and storm-tossed pine trees, to calcareous pine forests interspersed with meadowland containing a diverse range of orchids and lush groves of deciduous trees including giant oaks. Böda does not just have a fascinating natural environment to offer – the cultural heritage is also very much in evidence. The large number of well-preserved ancient monuments is unique in northern Europe. Almost entirely intact villages with foundations of buildings, stone walls and grave-fields tell of the lives of the former inhabitants of Öland.
Skäftekärr Iron Age Village
Skäftekärr Iron Age village. In Böda parish, in northern Öland, you will find places to visit where nature, culture and history interact. In the restored Iron Age landscape, you can see how ancient Ölanders lived. A longhouse has been erected here as it could have looked some 1,500 years ago with fields, meadowland, stone walls and sacrificial bog.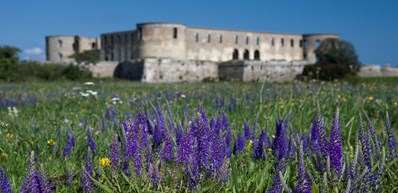 Borgholm Castle
Borgholm Castle, "the finest ruin in the Nordic region," is a structure that it is hard to imagine leaves any visitor unmoved. Its size is overwhelming and its setting is fascinating. Wander through the Castle's state apartments and feel the echoes of history. Ascend one floor and enjoy the fantastic view over the castle's bare limestone soil and Kalmar Sound. During June - August, Borgholm Castle offers numerous activities for children, including guided tours for children and families and castle workshops.
Solliden Palace
Solliden is the summer residence of the Swedish royal family, which they visit several times a year. Commissioned by Queen Victoria, on the advice of her doctor Axel Munthe, and with Mediterranean influences, the palace was completed in 1906. Munthe was of the opinion that Öland's abundant sunshine and oxygen-rich air would improve her health, and to this day the royals are happy to enjoy Öland's sun! Solliden Palace is open to visitors throughout the summer months. Visitors have free access to most of the parks. Café, shop and a pavilion with exhibitions.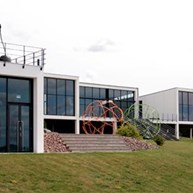 Vida Museum & Art Gallery
VIDA Museum & Art Gallery, is built in a fantastically beautiful setting, at the top of the hillside sloping down towards Kalmar Sound at Halltorp, approx. 9 km south of Borgholm. The newly built VIDA Museum and Art Gallery was opened in June 2001, featuring an art gallery and two wings devoted respectively to Ulrica Hydman-Vallien and Bertil Vallien. The most important initial works from the early 1960s up to their very latest works in glass, ceramics, sculpture and painting are on display here. In 2003, VIDA was extended with an additional gallery, the North Gallery, to house the Rasjö collection, a large private art collection focusing on contemporary Swedish painting. Constantly changing exhibitions of paintings from the Rasjö collection are on display at VIDA. Another gallery, the Trotzig Gallery, was opened in 2005 to coincide with Ulf Trotzig's 80th birthday. This gallery shows a range of exhibitions of Trotzig's painting spanning the 50 years of his art.