BCN Travel
Barcelona
The guide was updated:
Fanciful architecture and hip restaurants have come together with the sunny southern Spanish climate and beaches. This has transformed Barcelona in just a few decades from a rough port city to one of Europe's—if not the world's—premier destinations.
Stroll along La Rambla, admire the Casa Calvet's façade or the Casa Mila designed by Gaudi, visit the Market of la Boqueria or shop at El Corte Inglés. Sample some of the many bars, cafés and late night haunts while you're at it.
Facts
Population:
1.8 million
Currency:
Euro, €1=100 cents
Emergency numbers:
112
Newspapers:
La Vanguardia
El Periódico
El País
El Mundo
Website:
www.bcn.travel
Opening hours:
Usually 09.30 to 13.30 and 16.30 to 20.00 Monday–Friday with some variations. Many establishments have the same opening hours on Saturdays and some are open until lunchtime on Sundays. Shopping centres and many large stores do not close for lunch/siesta.
Tourist information:
Turisme de Barcelona
Plaça de Catalunya 17 - basement
+34 932 853 834
Read more
Section in Barcelona
Do & See
Much of the attraction of Barcelona is the city's wide range of sights. The architect, the design nerd, the football fan, the art historian, the city planner—there is something for all of them in the most self-assured city on the Mediterranean. A visit to Sagrada Familia, Casa Mila and Casa Calvet is a must when visiting Barcelona.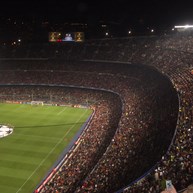 Camp Nou
FC Barcelona is much more than just a football club. Sometimes it feels as if it carries the whole nation's pride on its shoulders. Even those not interested in football will enjoy a visit. One reason is the large number of well-dressed spectators, another the masterful architecture of the arena.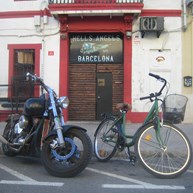 Steel Donkey Bike Tour
Steel Donkey Bike Tours are the first and only alternative bike rides in Barcelona. Unlike with standard bike tours of the city, you won't simply be learning about Barcelona you'll be living it too…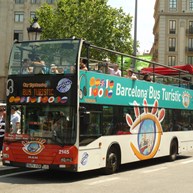 Barcelona Bus Turistic
The Bus Turistic is the offical hop on - hop off bus and probably the best way to explore the city on your own. There are one-day and two-day tickets for unlimited use on all three routes (44 stops). Ticket prices: Adults - 27€/35€ (1day/2days), Children - 16€/20€ (1day/2days) Child discounts apply from 4-12 years If you buy the tickets online in advance you will save 10%! With the printed ticket voucher you can hop on the bus right away at any stop.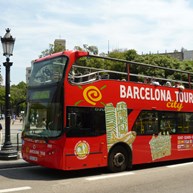 Barcelona City Tour
The open red double deckers of Barcelona City Tour offer two routes with 35 stops close to all major tourist attractions, an audio-guide and a discount booklet. Tickets allow for unlimited use of the buses on the booked days. Prices: Adults - 27€/35€ (1day/2days), Children (4 to 12 years) - 16€/20€ (1day/2days), Seniors (+65 years) - 22€/27€ (1day/2days) Buy the tickets online to save 10% and board the bus at any stop with the printed voucher.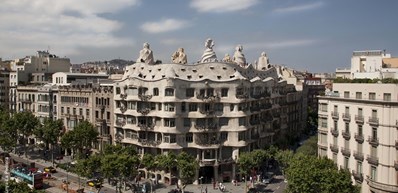 Casa Milà, La Pedrera
If you don't have time to visit all of Gaudi's landmarks, be sure to see this one and the Gaudi museum. In the summer time you can also enjoy a refreshing drink on the rooftop. The decorations here must have inspired George Lucas and his Star Wars movies.
MACBA
Leave the busy streets behind you for a moment and visit Barcelona's museum of modern art. MACBA is short for Museu d´Art Contemporani de Barcelona and here you find Spanish and Catalonian art from the 20th century.
Do & See
Palau de la Música Catalana
This sublime concert hall designed by Domènech i Montaner a hundred years ago is not quite as wacky as some of Gaudi's architecture. It is actually more representative of Modernism. The Palace of Catalan Music not only pays tribute to the musical heritage of the Catalans but to all music—as well as beauty, colour and joy.
Santa Maria del Mar
Barcelona's most beautiful church is probably the best existing example of the Catalonian Gothic, with a cleaner style than normally associated with Gothic architecture. The church has a wonderful feeling of spaciousness and weightlessness emphasized by slender pillars and very sparsely decorated chapels.